Many dog owners have to leave their pups at home every morning to get some work done. While they're gone for a seemingly endless timespan, their dogs need to entertain themselves.
Now you can get your dog a robot friend as a companion for these lonely hours. The Anthouse is an all-in-one system for keeping your puppy engaged and happy while you are away! The project is being crowdfunded on Kickstarter.
Anthouse is going to change the way owners and their pets interact.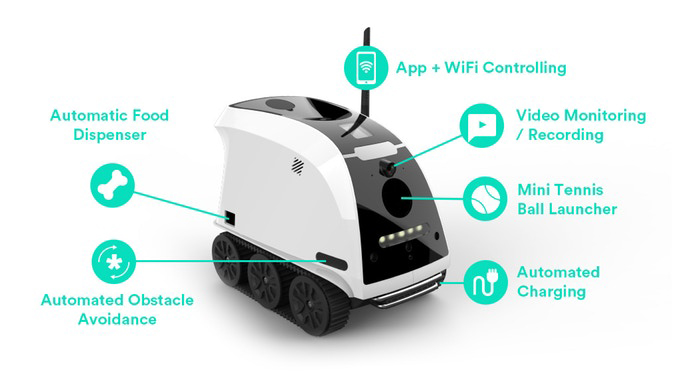 Control your dog's companion remotely
While you're away, you can check in with your pup via the Anthouse App. To see what your dog is up to, you can activate the Video Monitoring and manually record videos or take a photo. With the app, you control where the Anthouse is navigating and you can vary its speed.
You can also let the Anthouse toss your dog a treat and talk to him with the Walkie-Talkie function. The Anthouse has an integrated Mini Tennis Ball Launcher with which you can throw your pup a ball – you choose the distance (2.5, 5 or 8 metres)!
Automatic Feeding
The Anthouse automatically feeds your dog throughout the day. You can set up feeding times at which it will dispense a fixed amount of food for your pup. You can even let the Anthouse record a video around feeding time to check if your dog munched away happily.
Navigating Safely
Like a Roomba, the Anthouse has a lot of useful features to navigate around the house for itself. It automatically steers into its loading dock whenever the energy goes low while detecting and avoiding obstacles through an infrared sensor.
Features at a Glance
Control via App & WiFi
Navigate the Anthouse with your Smartphone
Automatic Food Dispenser
Set fixed feeding times for your puppy or let the Anthouse toss a treat remotely
Video Monitoring / Recording via App
See what your dog is up to, shoot videos and photos of him/her being adorable
Walkie-Talkie Functionality via App
Use the app to talk to your dog via your Smartphone
Mini Tennis Ball Launcher
Throw your pup a ball at distances of 2.5, 5 or 8 metres
Automated Charging
The Anthouse returns to its charging station when energy runs low
Automated Barrier Avoidance
The Infrared Sensor recognizes obstacles and avoids them automatically
What it is, what it isn't
The Anthouse is in no way a substitute for you engaging with your dog. Yes, you still need to control the robot by yourself! It gives you the possibility to be there for him while you're away from home. You are not buying a fully-automated dog nanny here (and that's what we love about it).
Back the Anthouse Kickstarter
Anthouse has reached half of its funding goal already (more than 25.000$ out of 50.000$ on September 22nd, 2017). You can still back the campaign until Wednesday, 4th of October 21:47 CEST and get one of their robot pet companions at a reduced price, starting at 299$.
---
tldr;
Back the Anthouse on Kickstarter to get a robot pet companion. Engage with your pets even though you aren't home. Use the video & walkie-talkie function to communicate, navigate the Anthouse or let it toss your dog treats and throw some balls.
---