Dog crates are usually not on the fancy side of dog accessories. And to be honest, most crates available don't do their job of being safe and convenient.
The startup Diggs wants to change that. They created the Revol Dog Crate, a collapsible dog crate they are currently crowdfunding on Kickstarter. The project already reached its funding goal of $ 30k and has gathered $ 73k.
Revol Dog Crate vs Wire Dog Crates
Do you own a good ol' wire crate? Lucky you if your fingers haven't been squashed by it when collapsing it for transport! While we like that our current wire crate is transportable (it has a handle and all), it's not really a joy to set up.
Recently, we were dogsitting another puppy that is used to sleep in a crate (our dog isn't, she chooses to sleep wherever she wants). For weeks, we constantly dragged the puppy's crate around the house without collapsing it, as it was a lot quicker that way. Office – Living Room – Bedroom and back again! We really wished for a more convenient solution!
Well, here we found one! Diggs created their Revol Dog Crate with feedback from consumers like us in mind. They designed a collapsible dog crate and then added materials and industry standards for infant accessories to make it safe.
It impressed us that you can collapse & set-up the Revol Dog Crate with one hand and in no time. It has rolls on the bottom to be used like a travel trolley: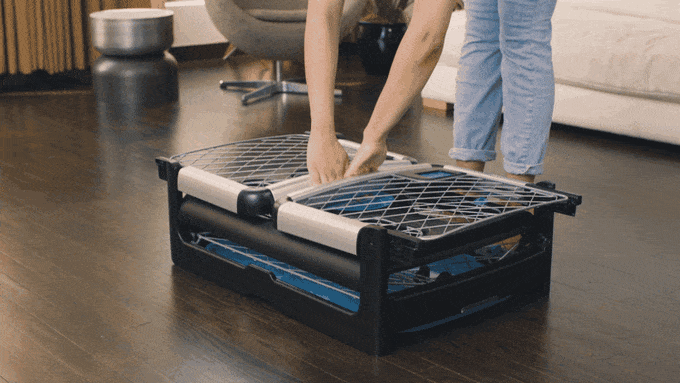 Reasons to love the Revol Dog Crate by Diggs
Multiple Entrances (two doors, three access points)
Easy to store & transport (set up & collapse with one hand, rollable)
Not noisy (due to the materials used)
Customizable & Growing with your dog
Easy to clean
Safety-Tested & Safe Materials
Memory Crate Pillow (Snooz Pad) available
It aims to be more beautiful, convenient, comfortable and safe than traditional crates. No paws getting caught, no fingers being squashed, no eyes being hurt by looking at it.
To be totally honest, we're not sold on the look of the crate, as it reminds us of baby gates and car seats ? The soft edges, the material mix and the colours wouldn't really fit our interior. (We prefer minimalistic designs!) But we love the collapsing mechanism and think it's a well-rounded product! We can also totally see why the look of the crate reduces the guilty feeling of locking up your dog.
(For a crate more on the designy side, look at the PAWD Pet Space that was also successfully funded through Kickstarter! It's also collapsible, but taking it with you isn't as convenient as with the Revol Crate.)
Pricing & Sizes
Only the small crate will be available directly at product launch in September 2018. It is suitable for dogs up to 30lbs, so f.ex. Frenchies, Pugs, Corgis or Cavalier King Charles Spaniels. The max size of the dog according to Diggs should be 25″ (63 cm) in length and 18″ (45 cm) in height.
If you use the deals through Kickstarter, you get a small crate for $ 135 with the Early-Bird-Bonus, saving you $ 75 compared to the retail price of $ 200. The Crate Pad is available for $ 57.
Larger crate sizes will be available at the end of 2018, according to Diggs.
Back the Kickstarter
You can back the Revol Kickstarter until Monday, 30th April 2018 16:00 CET. You'll get your reward (your Revol Dog Crate and / or the Snooz Pad) delivered by September 2018. Retail Packages are also available!
---
tldr;
The Revol Crate is a transportable dog crate that uses high-quality materials to keep your pup safe. Regardless of whether the design is your thing or not, the Revol Crate definitely brings some variety to the plain look of traditional wire crates.
---