Our pup Dea is wearing a FitBark Activity Monitor daily since she has been a few months old. We bought it to get some insights into her daily activity patterns. We also love to try out every tech gadget for dogs, of course! ?
In case you don't know: The FitBark is a small device that you can attach to your dog's collar. It collects data about your pup's activity & rest levels. This is the "dog version" of the FitBit, the activity monitor for humans! If you have a FitBit for yourself, these two devices complement each other!
You can order a FitBark on fitbark.com for currently $ 69.95!
I'd love to show you how the FitBark looks when Dea is wearing it, but her fur just swallows it up! ? Here's proof:
---
FitBark 1 vs. FitBark 2
The second, revised version of the FitBark was released late 2017. We upgraded from the Fitbark 1 to the FitBark 2 as its battery life has been drastically improved (up to 6 months instead of just 14 days). This was definitely a pain point with version 1!
FitBark Colours & Covers
The FitBark 1 was available in different colours. The FitBark 2 is a lot more flexible: You can change its coloured cover to suit your pup's accessories.
We are happy with the simple black cover that came with the Activity Monitor itself. It matches Dea's fur and we like it to be unobtrusive! We also ordered a cover in "Peanut Butter Monster Brown" as a gift for our friend's Australian Shepherd pup. I don't know about the other colours, but the brown one is a lot darker than on the pictures on the FitBark Store.
The downside of the Coloured Covers
Although the FitBark 2 is said to be more durable, the covers are not. Our black one looks worn out after only 2 months. See the photo below to examine the damage and compare it to the FitBark 1, which has been worn way longer. We couldn't care less, but it may be important to you if your pup has short fur!
Attaching a FitBark to your pup
Here you can see the FitBark 2 attached to Dea's collar in comparison to the grey FitBark 1. It's a bit bigger and gets zip tied to the collar.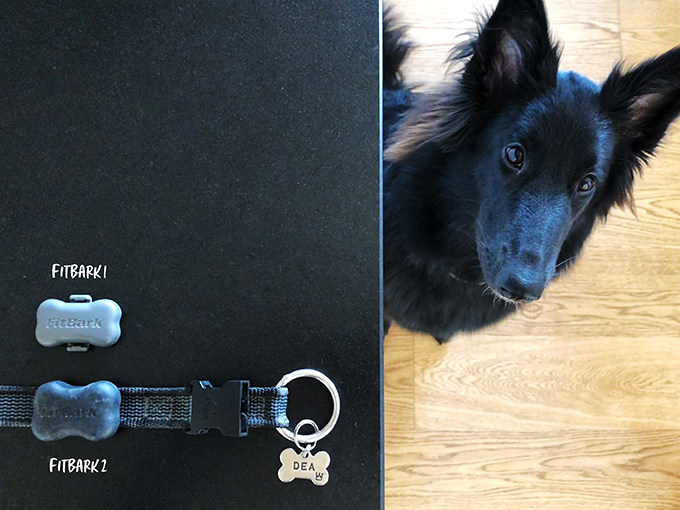 This means you have to use special zip ties every time you want to attach it to a different collar or change the cover. If you regularly use different collars, it may get annoying. You get 8 zip ties in the original box, but then you have to order more separately.
The FitBark 1 uses rubber bands instead, which we liked a bit better.
---
How it works
The small bone-shaped device collects data about how much Dea is moving and resting throughout the day. If we open the FitBark App on our phones when we are near her, it fetches the data from the device and displays it in the app's interface.
The FitBark distinguishes between times when Dea has been active (like walking around), when she played (higher energy movements) and when she slept. You see the amount of time she spent on each intensity.
FitBark App
The interface of the smartphone app shows hourly, daily and weekly statistics, as well as a calculated Sleep Quality Score and Health Index. It's especially useful for monitoring changes in Dea's behaviour over time, but it also shows a lack of sleep when she has a stressful day.
Dea gets "BarkPoints" for being active. She has a daily goal that is suggested by FitBark, which is based on her breed and age. Possible medical conditions can also be entered to be taken account.
You can compare your pup's daily BarkPoints with other dogs using FitBark. Few of Dea's playmates have a FitBark, but it has been interesting to see how many BarkPoints other Belgian Sheepdogs earn in comparison!
---
What we like
+ Depth of Insights
The data provides a lot of insights. Every hour is split into active / play and rest time, and you can compare the intensity of the activity throughout the day.
We could see how little sleep Dea was getting during a phase of intense teething. She shifted around a lot in the night and didn't get her usual amount of sleep during the day. It helped us identify her pain and help her soothe it!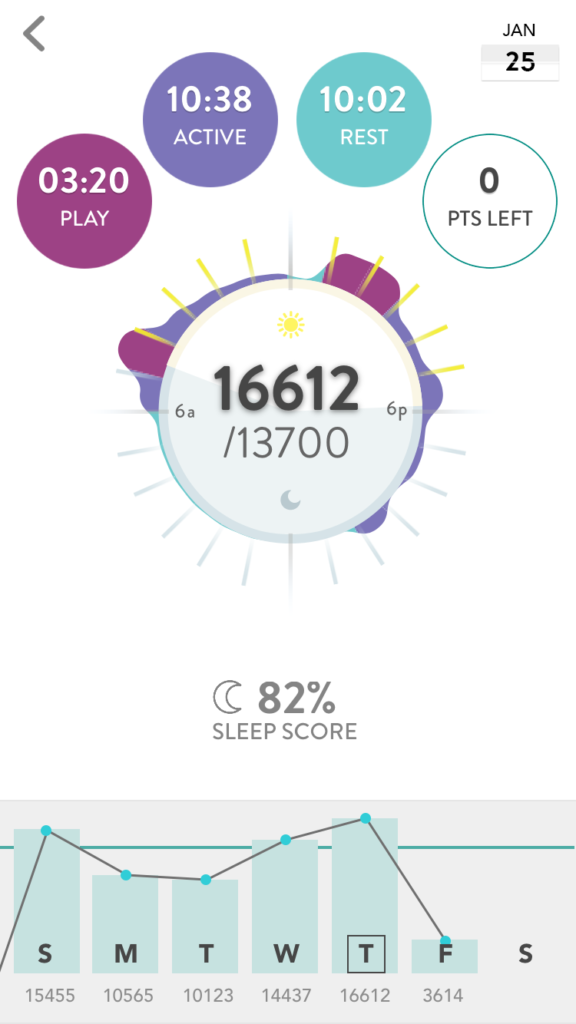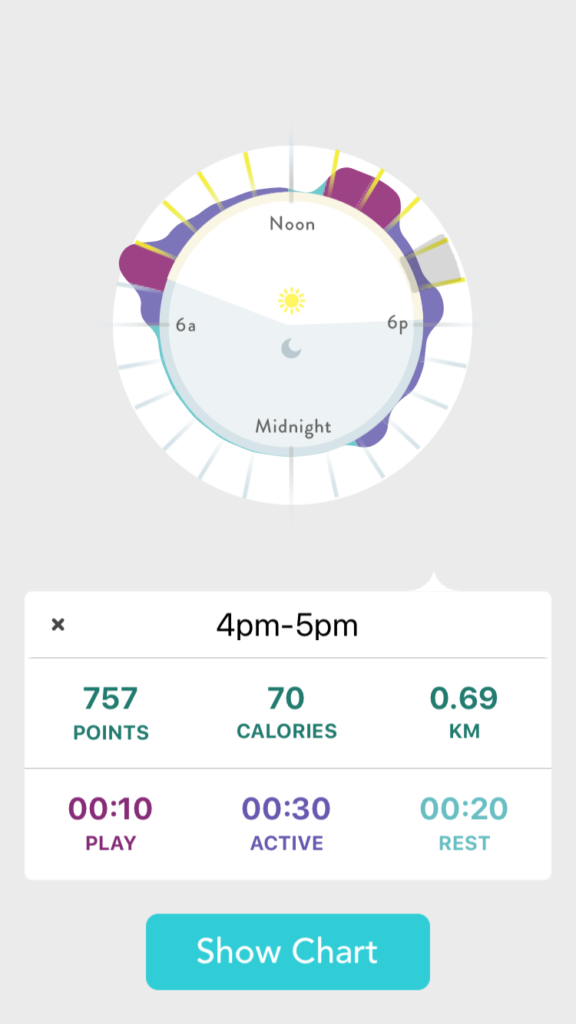 The FitBark also helps us to balance Dea's activity! The day shown in the screenshots above has been an unusual one for us: We had a walk in the morning, a play session in the afternoon and then we left for about 6 hours.
Our pup stayed home in the care of a friend, where she has been waiting for our return instead of taking a nap. We saw that she did not get a lot of sleep that day, so we skipped her morning walk the next day.
+ Light & Small
The device is effectively invisible on our pup. Not only is it so light that Dea doesn't even notice it on her collar, but it's also hidden in her neck fur (as you saw above)! ?
+ Waterproof
We love that we don't have to worry about the device getting wet.
---
What we don't like
– Focus on Activity / Calorie-Burning
It's admirable that FitBark wants to motivate dog owners to be more active together. However, owning a high-drive breed, we think a lot about meeting our dog's needs vs. overstimulation.
If we just let her define the amount of exercise she gets, she just wouldn't stop. She can keep going and going and going!
While the suggested BarkPoints goal seems quite reasonable, it may push some dogs over the edge. I also think the goal should be reduced after a day your dog surpassed it by a lot of points or got little rest.
We're a bit critical about the "the more, the better" mentality when it comes to activity.
Although Dea does not meet her recommended activity goal on most days, she is a very balanced, healthy pup that can relax well at home.
– App
To be honest, we're not entirely sold on the app. It's confusing when to tap where to get to the right charts. After some months, I still have to think about how to perform some actions.
As we use the app on an almost-daily basis, we would wish for a bit more clarity in the interface.
---
In Conclusion
We love our FitBark! It's a great tool to monitor the health of our pup. The charts are great for analysing relations between activity and behaviour.
It's a light, unobtrusive and waterproof device, which makes it great for daily use.
Using a FitBark is a great way to ensure your pup gets enough exercise.
However, we recommend doing a reality check on your dog before aiming to achieve the activity goal every day.
There might be some pain points for you if you want to attach it to different collars regularly, or if you mind the device cover showing signs of wear and tear soon.
There's also some room for improvement for the smartphone app, but it provides a useful overview and visualisation of the data nonetheless.
We give the FitBark 4 out of 5 nose boops – we can only recommend ?
---
Links
We totally recommend buying a FitBark 2 if you want to monitor your pup's health & activity!
---
This article is a personal review and represents our honest opinion about the product. We did not get paid to write it, and we don't want to persuade you to buy one 🙂