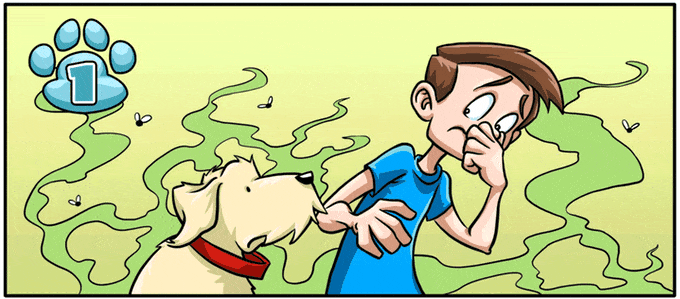 Okay, we don't want to make you jealous or something, but our dog doesn't smell like a dog. Dea is a Belgian Sheepdog, a breed that is known for its lack of body odour. But she DOES smell when she has been playing with other dogs. We love her playmates to pieces, but their slobber makes Dea's fur smelly. Ugh!
We obviously don't bathe her every time after playtime! But recently, we discovered dry shampoo as a great alternative. While reading up on ingredients in different products, we found the Fresh Dog Dry Shampoo Powder. We love that it's 100% natural and free of chemical fragrances! They are currently running a Kickstarter Campaign to help them further improve their formula.
How Dry Shampoo for Dogs works
The Dry Shampoo Powder soaks up dirt buildup, deodorizes and detangles your puppy's fur. The Powder by Fresh Dog is 100% natural, has a perfect pH balance for dogs and is suited for all fur types.
As you don't need water for using it, you avoid your puppy's skin getting dry and itchy from being bathed too often.
100% natural with Lavender Rosemary scent
extends the timespan between bathing
no water needed
suitable for all fur types
does not strip topical flea/tick treatments
How to use it
Just sprinkle the powder onto your puppy's fur and massage it in with your hands or a washcloth. After you wiped away excess product, your puppy will smell like lavender and rosemary. Besides using it on your puppy's fur, you can also refresh your carpets and pet bedding with it.
Where to buy
Fresh Dog is running a Kickstarter Campaign to further improve their formula until Wednesday, November 29, 2017, 19:29 CET. It already reached its funding goal, but you can still save some $ on their Dry Shampoo and other doggy bathtime items.
After that, you can get the Fresh Dog Products on their website. Besides their dry shampoo, they sell for example coat oil, bath foam, oatmeal shampoo and conditioner and mouth water.
---
tldr;
Back the Fresh Dog Kickstarter Campaign to get some Dry Shampoo for your Dog. It extends the time between bathtimes and freshens up your puppy's fur!
---
All images belong to Fresh Dog.