Dogs help us to be better humans. Their way of living in the moment lets us forget our to-do list once in a while.
Many of their personality traits are rubbing off on us and dogs will make you better at your job, especially if you're a designer. You'll also learn a lot of useful things while being a puppy owner!
"Loving this concept." – God designing dogs

— braden graeber (@hipstermermaid) 21 January 2015
#1 Patience
If you ever trained a puppy, you know the frustration of going one step forward and two steps back. No puppy has ever become a perfectly behaved dog over night! Dog training means being patient and stepping back whenever we progressed too fast.
At our jobs, we're not always on the same page with colleagues or customers. Being able to take a step back and explain patiently is a great skill to have.
Being patient with yourself and your own creativity is important too. It's just not possible to come up with a perfect solution within the first few minutes. Sometimes you have to sleep on it or take a walk to get your mind working.
 #2 Consistency
It takes a lot of consistency in your actions for a pup to understand what's the right way of doing things.
A design is also only going to work if you're consistent with your decisions. You need a vision of the final product and then take all the small steps to reach it. It's exactly like teaching your dog a new trick. You know how it should look in the end and you break it down into small, achievable steps for your dog. For both, designing and dog training, remember: If you compromise the basics, the solution you get will be mediocre at best.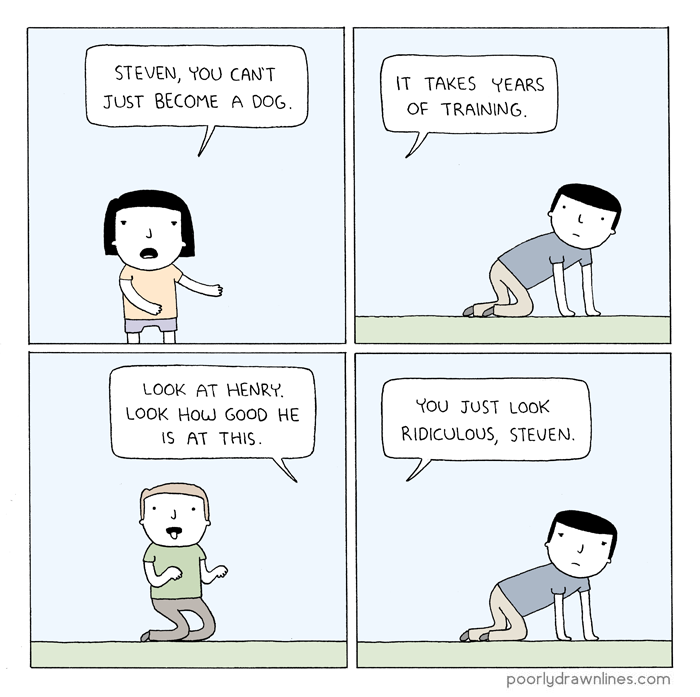 #3 Empathy
Dogs feel us. They know when we're nervous or in a bad mood. In return, we get so accustomed to our dogs' body language that we can almost always tell how they feel, too. They remind us to be sympathetic to each other, which is a very important trait for designers.
A designer needs to be empathic with users and customers in order to understand what they really need. Only then he or she can find solutions that really help people.
when I'm sad my dog goes outside and tries to bring me things. today she brought me a pine cone ? pic.twitter.com/DsefN8dDZg

— Melanie Wang (@MelanieWang2) 11. April 2016
#3 Responsibility & Time Management
The moment you got a dog, you took responsibility for a living creature. This will help you to be more aware of your responsibilities towards the people working with you. Your dog will help you remember to do what you promised. This can be useful for the "creative geniuses" among us designers that need a little bit of chaos to thrive. It will help to know where your priorities are.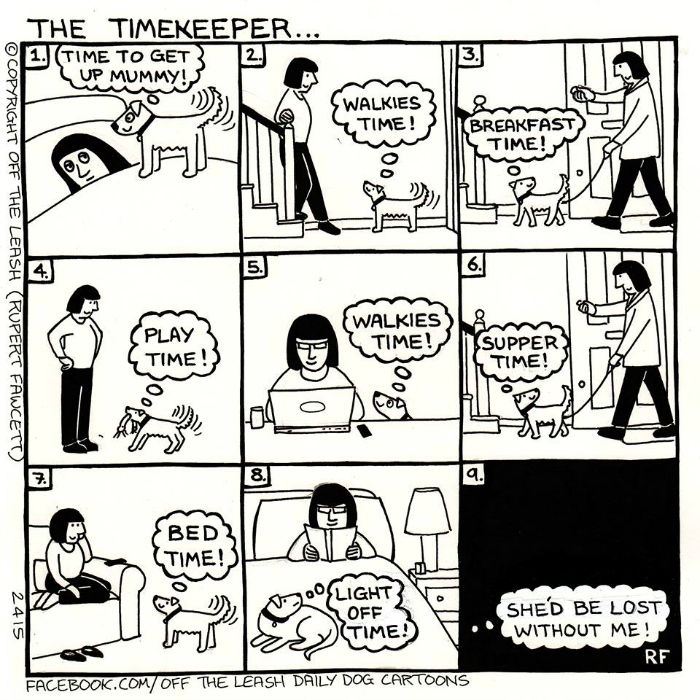 #4 Flexibility
Things never work out exactly as planned. Not with puppies and not with projects, either. Living beings are involved, which means mistakes, communication problems and different points of view. Having had to deal with all the unexpected situations you find yourself in with a puppy means that nothing can throw you off balance in your work life again. For you as a designer this means having an open mind for changing requirements without losing focus.
#5 Self-Esteem
Designers and Creatives suffer from the imposter syndrome more often than others. Your dog will remind you that you're absolutely AWESOME every day, making it easier to believe in yourself and your work.